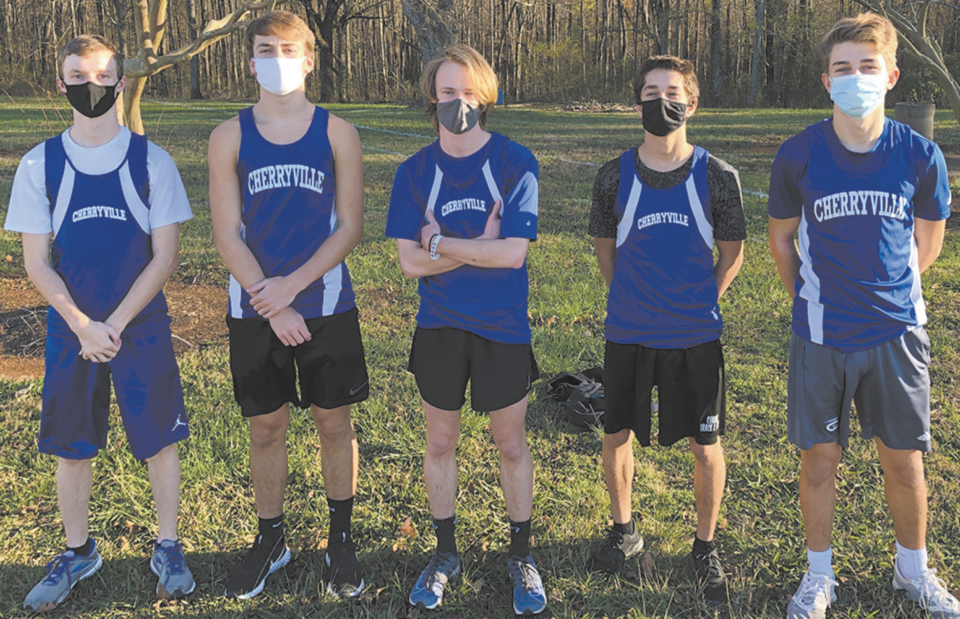 CHS Cross Country team has strong
first outing for 2020 season
Ironmen runners finish third in Tryon Park meet

by MICHAEL E. POWELL
Editor
michael@cfmedia.info

Ironmen Cross Country coach Scott Harrill said the CHS Cross Country team had their first meet of the 2020 season on Monday, Nov. 18, at Tryon Park.
Said Harrill of the meet, "We had a strong showing and finished third in the meet. Thomas Jefferson (Classical Academy) finished in first place, followed by Highland Tech in second place, Cherryville in at third, and Bessemer City in fourth place.
"Cherryville was only two points out of second place and I feel like they can finish strong in the next meet, which is scheduled for Wednesday, Dec. 2, also at Tryon Park."
Coach Harrill noted the Ironmen have one returning runner in senior Noah Abernethy, adding, "Noah has been a great leader for our program. He has shown the way of hard training and dedication."
Harrill noted also that Thomas Jefferson runner Carson Gilliam set a blistering pace, coming in first at 16.53, on the grass course for 3.1 miles.
Leading the CHS crew was Ironman Scott Stroupe, who finished ninth overall in the meet with a 21:28 time, Coach Harrill said.
"Coming in right behind Scott was Ironman Jackson Owens at 21:57. Chase McNeill was right on his heels at 21:58.
"Also, Ben Hayes, who has been a track star for CHS, came in at 22:21, and Noah Abernethy had a time of 23:20, in the first race of the season."
Harrill said the Ironmen will be off for the Thanksgiving holiday, and then be back in action, as was mentioned earlier, on Wednesday, Dec. 2, at Tryon Park.
At that time they will compete against Bessemer City, Highland Tech, and Piedmont Charter.